CO2 neutral and renewable energy
At Hanegal, we use CO2 neutral and sustainable energy. Renewable energy uses CO2 neutral technology that differs from coal and other fossil fuels. Renewable energy includes e.g. wind and solar energy.
We use wind energy from wind turbines. When the wind blows, the wings rotate and create what is called kinetic energy, and this movement drives a generator that produces a current, which is referred to as electrical energy.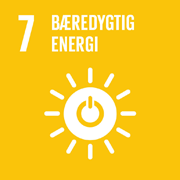 By using CO2 neutral and renewable energy, we support SDG no. 7: sustainable energy. The aim of this SDG is to have global access to modern and renewable energy – a prerequisite for combatting some of the challenges we face, including climate change.
Link to Hanegal's climate certificate: Hanegal A/S Climate certificate